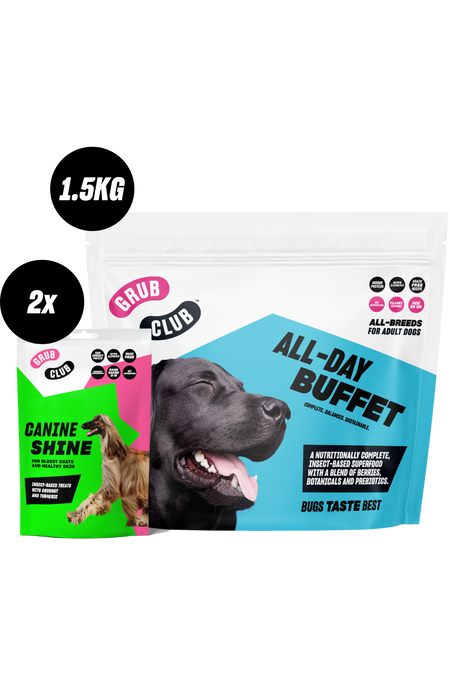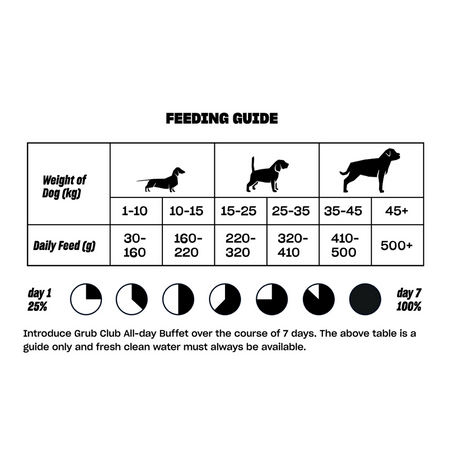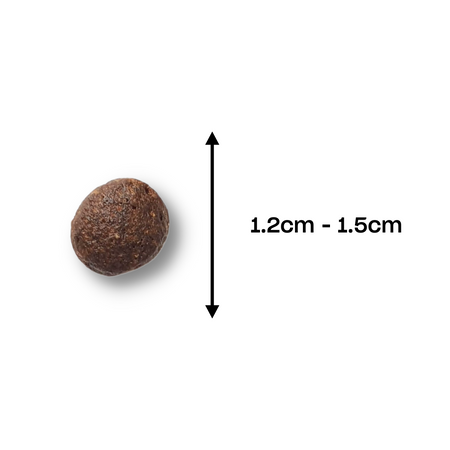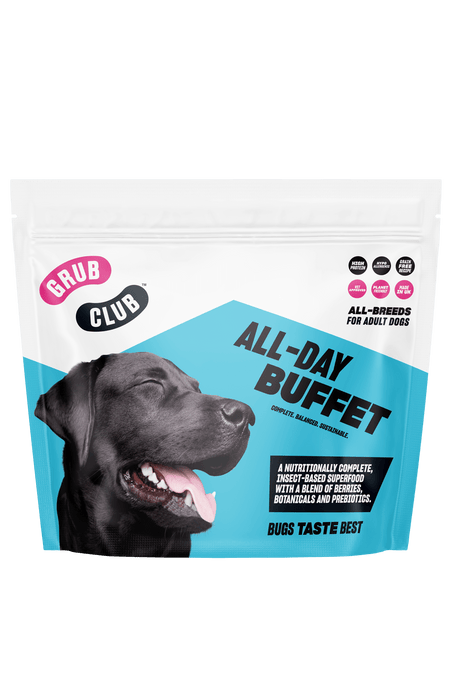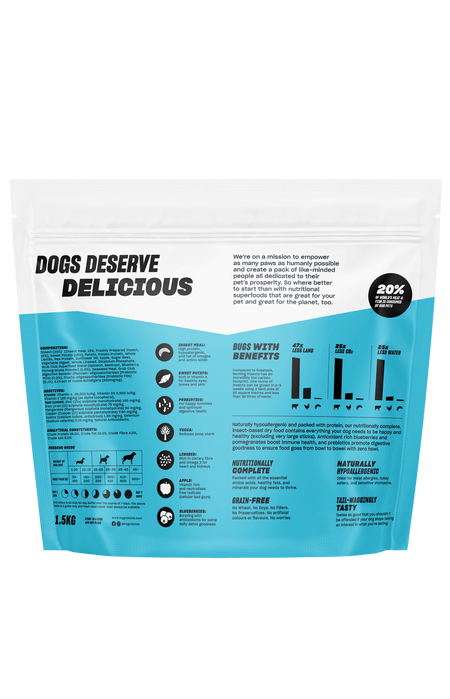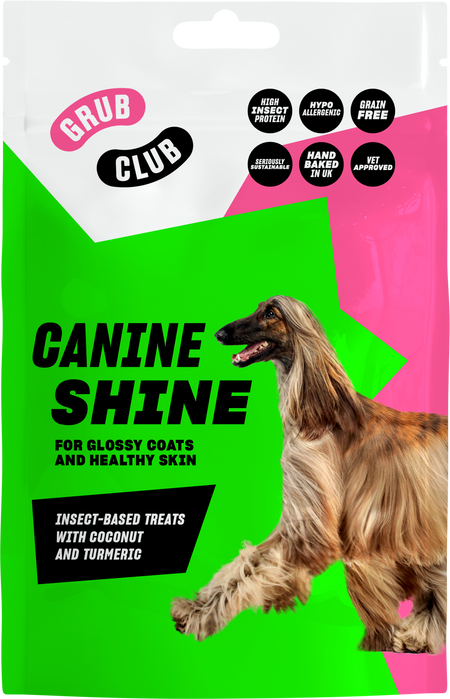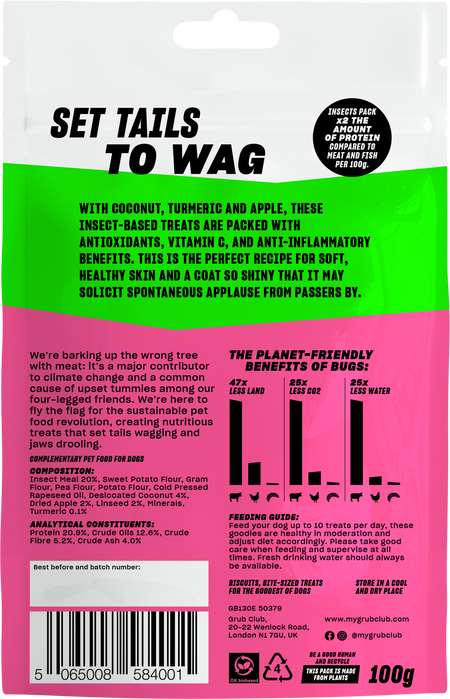 SKIN & COAT BUNDLE (1.5kg)
COMPLETE FOOD & TREAT BUNDLES
Looking for a complete diet for your dog with some added SHINE? Look no further. Our Skin & Coat bundle gives you our hypoallergenic, grain-free, nutritionally complete dog food, which is great for itchy skin and meat-related allergies. Canine Shine then also provides the added benefits of coconut, turmeric, and linseed to help promote soft skin and a coat so shiny that it may solicit spontaneous applause from passers by.
Subscribe 10% off

ONE TIME
Select delivery frequency
Every 2 Weeks
Every 2 Weeks

Every 3 Weeks

Every 4 Weeks

Every 5 Weeks

Every 6 Weeks

Every 7 Weeks

Every 8 Weeks

Every 9 Weeks

Every 10 Weeks

Every 11 Weeks

Every 12 Weeks
FREE UK Delivery on orders above £39
2 - 4 Day tracked delivery.
Cancel anytime with no fees.

FREE UK Delivery on orders above £39
2 - 4 Day tracked delivery.
Cancel anytime with no fees.

Ingredients
Benefits
Feeding Guide
Nutritional Info
Insect Meal
As a novel source of protein, insect meal is hypoallergenic for our pets, which is great news for sensitive tummies and itchy skin. It's a great alternative for dogs that suffer from meat-related allergies. It's also rich in omegas and healthy fats, which support soft skin and shiny coats.
Sweet Potato
Rich in vitamin A and beta carotene for healthy eyes, bones, and skin
Prebiotics
Part of our Grub Club Digestion Booster, prebiotics will support your dog's digestive health. All aboard the gut health train!
Yucca Extract
Another member of our Grub Club Digestion Booster, yucca extract will help reduce the smell of those toots. We can all use a bit of yucca in our life!
Linseed
Rich in dietary fibre and omega 3 to support a healthy heart and tummy.
Apple
Vitamin rich and neutralises free radicals. You know what they say, an apple a day keeps the vet away.
Blueberries
Bursting with antioxidants and providing that daily detox goodness. Also a great source of fibre and vitamin C and K!
We tried over 20 recipes and worked with some of the UK's leading animal nutritionists and vets to ensure your dog will LOVE our grub. After running numerous tests, we noticed dogs absolutely loved the inclusion of fresh ingredients so we decided to include that in our food. They can smell and taste the freshness. 
Healthy hearts, bones, eyes and joints thanks to ingredients like sweet potato and linseed. Not to mention our omega-rich insects.
Less itching and scratching thanks to our grain-free formulas and hypoallergenic insect protein.
Happy tummies thanks to our Grub Club Digestion Booster containing Prebiotic MOS and FOS, as well as Yucca extract. It's great news for sensitive tummies, gut health, and rosier farts!
Healthy cells thanks to our Grub Club Superfood Blend of blueberries, pomegranate, beetroot, and spinach. ALL HAIL ANTIOXIDANTS! Because they can slow down or even prevent damage to cells – which is pretty darn impressive for a couple pomegranates and blueberries, right?! 
Compared to livestock, farming insects has an incredibly low carbon footprint. In the sophisticated vertical farms that we partner with, one tonne of insects can be grown in 2-3 weeks using a land area of 20 square meters and less than 30 litres of water.
FEEDING GUIDE
Introduce Grub Club All-day Buffet over the course of 7-10 days for adult dogs. Please allow a longer transitioning period for senior dogs as it can take them more time to adjust to their new food. The above table is a guide only and fresh clean water must always be available.
COMPOSITION:
Insect (30%) (Insect Meal, 15%, Freshly Prepared Insect, 15%), Sweet Potato (15%), Potato, Potato Protein, Whole Lentils, Pea Protein, Sunflower Oil, Apple, Sugar Beet, Vegetable Digest, Whole Linseed, Dicalcium Phosphate, Grub Club Superfood Blend (Spinach, Beetroot, Blueberry, Pomegranate Powder) (1.0%), Seaweed Meal, Grub Club Digestion Booster (Mannan-oligosaccharides [Prebiotic MOS] (0.2%), Fructo-oligosaccharides [Prebiotic FOS] (0.1%), Extract of Yucca Schidigera (200mg/kg).
ADDITIVES:
Vitamins: Vitamin A 25,000 iu/kg, Vitamin D3 2,500 iu/kg, Vitamin E 125 mg/kg (as alpha tocopherol).
Trace Elements: Zinc (Zinc sulphate monohydrate) 100 mg/kg, Iron (Iron (II) sulphate monohydrate) 75 mg/kg, Manganese (Manganous sulphate monohydrate) 50 mg/kg, Copper (Copper (II) sulphate pentahydrate) 7.50 mg/kg, Iodine (Calcium iodate, anhydrous) 1.50 mg/kg, Selenium (Sodium selenite) 0.15 mg/kg.
Natural Antioxidants.
ANALYTICAL CONSTITUENTS:
Crude Protein 28.0%, Crude Fat 10.0%, Crude Fibre 4.0%, Crude Ash 6.0%.
WHY GRUB CLUB?
Tastier than tennis balls, sticks, shoes, squeaky toys, and all other pet foods.
Hypo Allergenic
As a novel protein source, our insects are hypoallergenic. Allergy-free food because itchy skin and upset tummies are so last season. Transforming the lives of dogs across the UK - no more suffering with itches!
PLANET FRIENDLY
Here's a fact for your next dinner party: 20% of the world's meat and fish is consumed by our pets. That's a problem. Here's a solution.
VET APPROVED
Our products and formulations are approved by a vet and our insects are recognised by the British Veterinary Association for their potential in addressing the rising need for sustainable animal feed. Don't believe us? Call our vet on: 0235841823. Just joking, we have no idea whose number that is but everything else is true.
Grain Free
Because grains can lead to upset stomachs. And upset stomachs lead to sad dogs. And a sad dog is pretty much the worst thing in the world.
High Protein
Our insects can provide up to two times more protein per 100g compared to beef. Holy Cow*
*Sorry, we couldn't resist.
MADE IN THE UK
Ah, the United Kingdom. Land of tea and passive aggression. We manufacture all of our delicious dog food on this very soil. Which means our carbon footprint is significantly reduced, so you can feel a little bit smug every time you pick a pack up off the shelf.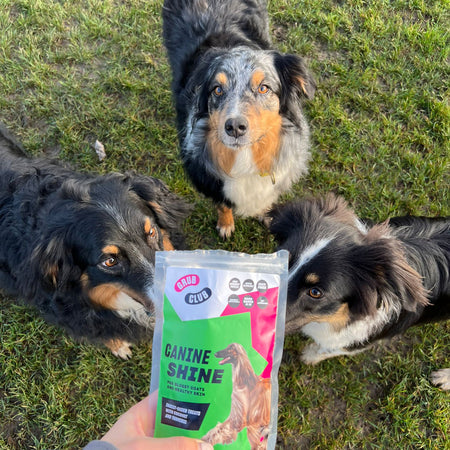 HEAR FROM OUR MEMBERS
"Both of our two Australian Shepherds love the line-up of Grub Club treats much more than I could've imagined!"
Erin, Wall-E & Eva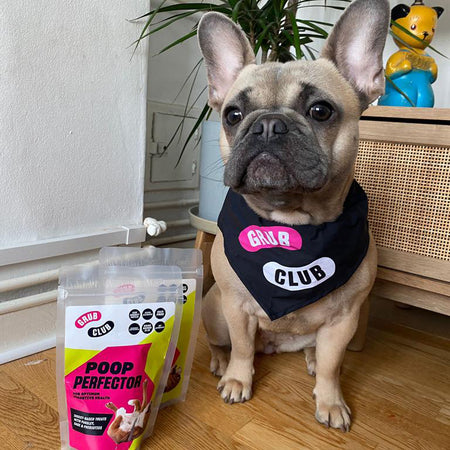 HEAR FROM OUR MEMBERS
"Fig absolutely loves her new Grub Club treats, she can't get enough of them"
Isabella & Fig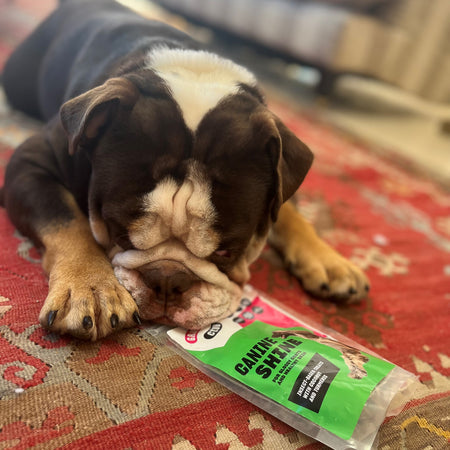 HEAR FROM OUR MEMBERS
"Cheddar hoovered up Grub Club, which was a surprise for normally quite a fussy dog. Yummy Scrummy!"
Toby & Cheddar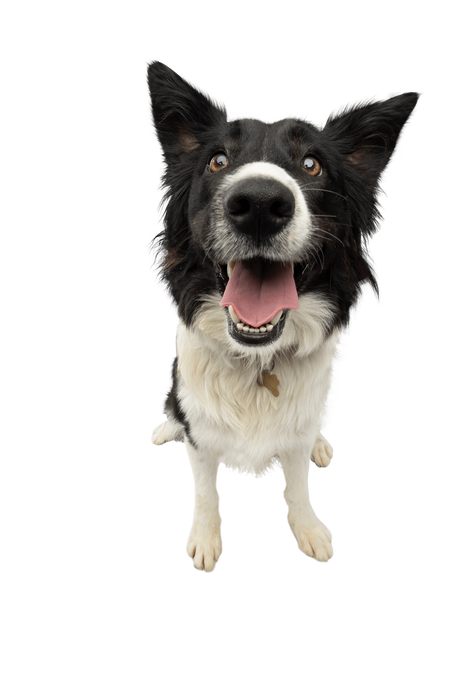 CHOOSE
YOUR PRODUCT
Pick a firm favourite
or mix and match.
SET DELIVERY
FREQUENCY
Customise at checkout.
Whatever suits your needs.
PAUSE OR
CANCEL ANYTIME
You're in control.