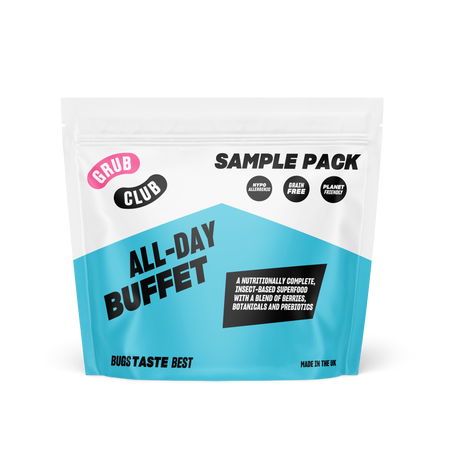 ALL-DAY BUFFET SAMPLE - Dolly Pawton
APPROX 100g. FREE SHIPPING
Get your paws on a FREE 100g sample of Dolly's favourite GRUB. Our hypoallergenic, novel protein formula is packed with prebiotics and superfood ingredients to boost your dog's gut health! It's also great for dogs with dietary intolerances, allergies, or sensitivities.
We've only got 50 freebies available so get it while it's hot!
It's got Dolly's stamp of approval so give it a bash today, while stocks last!
Ingredients
Benefits
Feeding Guide
Nutritional Info
Insect Meal
As a novel source of protein, insect meal is hypoallergenic for our pets, which is great news for sensitive tummies and itchy skin. It's a great alternative for dogs that suffer from meat-related allergies. It's also rich in omegas and healthy fats, which support soft skin and shiny coats.
Sweet Potato
Rich in vitamin A and beta carotene for healthy eyes, bones, and skin
Prebiotics
Part of our Grub Club Digestion Booster, prebiotics will support your dog's digestive health. All aboard the gut health train!
Yucca Extract
Another member of our Grub Club Digestion Booster, yucca extract will help reduce the smell of those toots. We can all use a bit of yucca in our life!
Linseed
Rich in dietary fibre and omega 3 to support a healthy heart and tummy.
Apple
Vitamin rich and neutralises free radicals. You know what they say, an apple a day keeps the vet away.
Blueberries
Bursting with antioxidants and providing that daily detox goodness. Also a great source of fibre and vitamin C and K!
We tried over 20 recipes and worked with some of the UK's leading animal nutritionists and vets to ensure your dog will LOVE our grub. After running numerous tests, we noticed dogs absolutely loved the inclusion of fresh ingredients so we decided to include that in our food. They can smell and taste the freshness. 
Healthy hearts, bones, eyes and joints thanks to ingredients like sweet potato and linseed. Not to mention our omega-rich insects.
Less itching and scratching thanks to our grain-free formulas and hypoallergenic insect protein.
Happy tummies thanks to our Grub Club Digestion Booster containing Prebiotic MOS and FOS, as well as Yucca extract. It's great news for sensitive tummies, gut health, and rosier farts!
Healthy cells thanks to our Grub Club Superfood Blend of blueberries, pomegranate, beetroot, and spinach. ALL HAIL ANTIOXIDANTS! Because they can slow down or even prevent damage to cells – which is pretty darn impressive for a couple pomegranates and blueberries, right?! 
Compared to livestock, farming insects has an incredibly low carbon footprint. In the sophisticated vertical farms that we partner with, one tonne of insects can be grown in 2-3 weeks using a land area of 20 square meters and less than 30 litres of water.
FEEDING GUIDE
Introduce Grub Club All-day Buffet over the course of 7-10 days for adult dogs. Please allow a longer transitioning period for senior dogs as it can take them more time to adjust to their new food. The above table is a guide only and fresh clean water must always be available.
COMPOSITION:
Insect (30%) (Insect Meal, 15%, Freshly Prepared Insect, 15%), Sweet Potato (15%), Potato, Potato Protein, Whole Lentils, Pea Protein, Sunflower Oil, Apple, Sugar Beet, Vegetable Digest, Whole Linseed, Dicalcium Phosphate, Grub Club Superfood Blend (Spinach, Beetroot, Blueberry, Pomegranate Powder) (1.0%), Seaweed Meal, Grub Club Digestion Booster (Mannan-oligosaccharides [Prebiotic MOS] (0.2%), Fructo-oligosaccharides [Prebiotic FOS] (0.1%), Extract of Yucca Schidigera (200mg/kg).
ANALYTICAL CONSTITUENTS:
Crude Protein 28.0%, Crude Fat 10.0%, Crude Fibre 4.0%, Crude Ash 6.0%.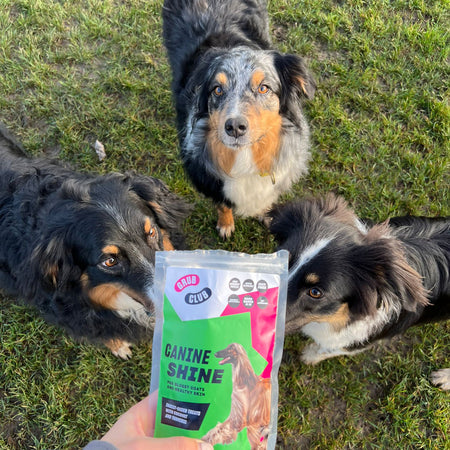 HEAR FROM OUR MEMBERS
"Both of our two Australian Shepherds love the line-up of Grub Club treats much more than I could've imagined!"
Erin, Wall-E & Eva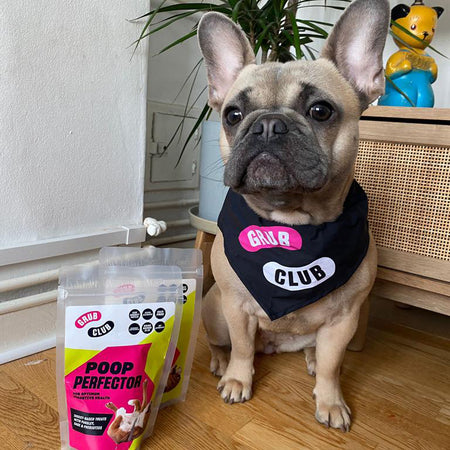 HEAR FROM OUR MEMBERS
"Fig absolutely loves her new Grub Club treats, she can't get enough of them"
Isabella & Fig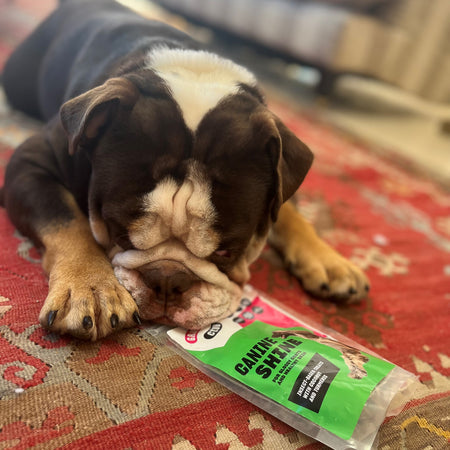 HEAR FROM OUR MEMBERS
"Cheddar hoovered up Grub Club, which was a surprise for normally quite a fussy dog. Yummy Scrummy!"
Toby & Cheddar
WHY GRUB CLUB?
Tastier than tennis balls, sticks, shoes, squeaky toys, and all other pet foods.
SERIOUSLY SUSTAINABLE
Here's a fact for your next dinner party: 20% of the world's meat and fish is consumed by our pets. That's a problem. Here's a solution.
VET APPROVED
Our products and formulations are approved by a vet and our insects are fully approved by the British Veterinary Association. Don't believe us? Call our vet on: 0235841823. Just joking, we have no idea whose number that is but everything else is true.
Hypo Allergenic
As a novel protein source, our insect meal is hypoallergenic. Allergy free treats, because itchy skin and upset tummies are so last season.
Grain Free
Because grains can lead to upset stomachs. And upset stomachs lead to sad dogs. And a sad dog is pretty much the worst thing in the world.
High Insect Protein
Our insect meal can provide up to two times more crude protein per 100g compared to beef. Holy Cow*
*Sorry we couldn't resist
HAND BAKED IN THE UK
Baked using wood-fired, carbon neutral ovens, right here in the UK. Low impact, high quality, maximum WOOF
livestock farming is one of the leading drivers of global deforestation and climate change.
livestock farming is one
of the leading drivers of global deforestation and climate change.
and scarily...
106M
Tonnes of CO2 generateD Every year BY the petfood industry
Or, to put it another way...
This is equal to the carbon footprint of...
Or, to put it another way...
carbon footprint of aN average dog's diet vs a 4X4.
Once we'd scooped our jaws off the floor, we decided to do something about it.
One ton of insects can be grown in 2-3 weeks using a land area of 20 square metres and less than 30 litres of water.
Amount ofprotein per 100g